my friend et, so takaw! hahaha
I just live in Pasay and only today that I will go to divisoria purposely to check for cheap grabs there. Feeling like we're off to find treasure I went there with my 2 girlfriends, all geared up - faded maong shorts/pants and shirts. Hindi kami nagkikay today. We are to meet our friend DiDy there who will accompany us in our shopping activity and who promises us to bring to a place of yummy chinese dishes - well in fact we're just looking forward to fill our tummy with juicy dimsums and mango sago.
We arrived at 168 around 1030am. We started on Pasilio 1-A and since Christmas is fast approaching you have to walk sideways most of the time - sobrang daming tao. First stop, bags. My friend Evelyn found this bag that she really likes and we asked how much, its 550. Ooops, we make tawad they gave it 480 - last price. We left to check on other stores. I have to remind myself that I am there to buy tela and shoes (optional) and blouses - that is if i can find one. The tela is a must. Anyway, we went around stores and we're still surprised that you can literally find everything on that building. From clothes, bags, to umbrellas, to school supplies, anik anik gift items, to home commodities --its there, like a one stop shop. My head is filled with so many things, thinking about to whom and the what gifts. My friend and I are already planning our next visit to this place, we'll definitely come back to do our Christmas shopping.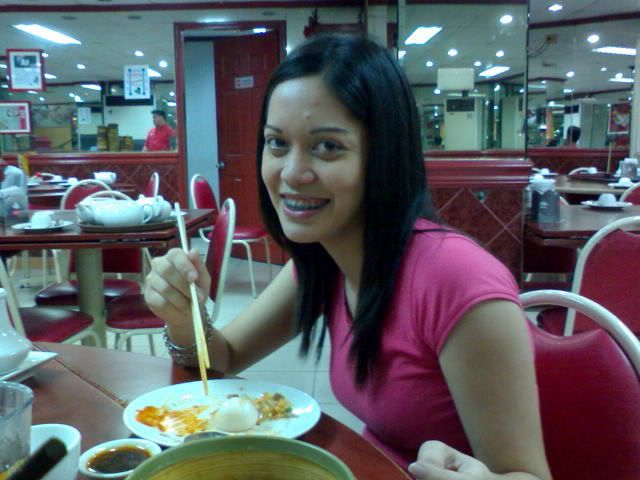 After a while DiDy met us there. Evelyn and I are anxious that we will tire him up. We never realized that he will come really handy, he was so great in making tawad, negotiating to the owner of each shop. The tawad is almost half to the original price, 'twas an amazing experience to be able to buy stuff more than a quarter less than of the original price. It made us even more excited, Evelyn actually bought 2 bags, 2 shoes and tops. Halfway on our shopping we met Nestlee, this was around 1 pm. It's already past lunch time but the experience made us forget that we only had coffee on breakfast so we continue to look for more finds on the second floor of pasilio 1 in 168.


Around 3pm, we now feel the pain of walking a lot breakfast-less and lunch-less. We were so exhausted nevertheless our faces are still painted with 180-degree smile. It has not tainted a bit our excitement on the idea that this activity will be paid off by many many yummy juicy dimsums. YUM! They say no pain no glory. We went to this place called The president, we decided to walk eventhough we're already exhausted. A 20 mins walk is nothing compared to the hours we spent at 168. At The President, you'll see a cart of dimsums ready for ambush :). DiDy initially get Hakao and Pork Siomai. Yumm.. grabeh. Since the girls are so tired and couldn't think anymore but the dimsums, we let DiDy take charge on the food. He ordered this noodle HoFan, Yang-chao rice for Ness and Spareribs in grabeh-red-sticky-sweet-sour sauce. All these dishes are masarap (or maybe we're just too hungry, LOL!!) and that made DiDy again a hero in our eyes. Of course chopstix-chopstix-an kami which made it more fun.

We stayed there for an hour, then walk again to buy Hopia and Chinese med for Ness. The day's activity was really tiring yet fulfilling. So there, my divisoria experience.